It's the last fixture of the club season and the biggest of them all… The Champions League brings Europe's brightest and best together and by early June, there can be only two. This year, as with the Europa League final, both finalists are English. It's Liverpool vs. Spurs.
This year's Champions League knockout stages have produced some simply incredible and unforgettable ties. Two of which (you know the two games we're talking about) we'll discuss shortly. So as the continent – and the world, really – gears up for this titanic fixture, let's preview the thing and do a deep dive into the info, stats, news and odds and try to work out how things might go down…
Where and when?
The big game kicks off at 8pm UK time on Saturday June 1st. 8pm our time is 9pm local time, given that the game will be played in the Spanish capital, Madrid.
It's not the Bernabeu that's hosting this all-English affair, though. Oh no. The 2018/19 Champions League final will be held at Real Madrid's bitter inter-city rival's place. Atletico Madrid's 63,500 capacity new Wanda Metropolitano stadium will play host.
How to watch the game
Unless you've already got tickets and you're reading this preview in a tapas bar somewhere in Madrid – you ain't going to the game. FIFA only allocated a rather paltry 17,000 tickets per club. So most fans will have to make do with catching the action at home, down the pub or – as we would unsurprisingly recommend – down your nearest Rileys. You can get your ticket to watch the game with us here.
Route to the final
Well…
No one can possibly forget how these two clubs booked their places to the final. Both Liverpool and Tottenham treated us to comebacks the likes of which we've not seen since Liverpool won this very competition back in 2005. The Reds' demolition of the mighty Barcelona at Anfield was special. Spurs' fightback in Amsterdam was no less awe inspiring…
Liverpool squeaked through their group, only progressing instead of Napoli because of goals scored. The Round of 16 game saw them draw 0-0 with Bayern Munich but beat them 3-1 in the second leg. They thumped Porto in the Quarters and then did the unthinkable, of course, in the Semis.
Spurs' route to the final has been oddly similar to Liverpool's. They only just got past PSV and Inter to qualify alongside Barca from their group. They then beat German opposition (Dortmund) in the Round of 16. In the Quarters they saw off Manchester City and then came back in unlikely fashion against Ajax in their Semi Final.
Team news
Neither team has much in the way of fresh injury concerns. Liverpool look to be boosted with the return of Roberto Firmino appearing very likely. While Spurs should have defender Jan Vertonghen back and – potentially – Harry Kane returning. Although will the England captain be match fit? It doesn't seem all that likely.
Head to heads this season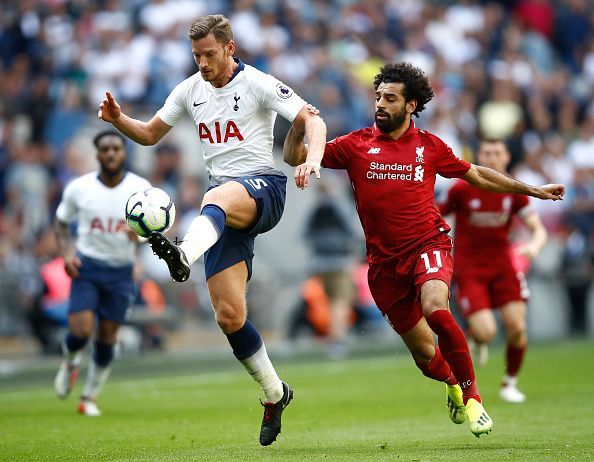 It's been a familiar story this season between Liverpool and Tottenham. They've met three times – twice in the league and once in the League Cup. The result was always the same…
2-1 to Liverpool.
Odds
If you fancy Liverpool to make it a quartet of 2-1 victories, that's around the 7-1 mark.
To lift the trophy, Liverpool are odds on at 1/2. Spurs are generally around 6/4. To win in 90 minutes, it's around Evens for the Reds with most bookies. Spurs fans who like a flutter can find better than 3s on their lot. Which seems a wee bit generous.
There's very little value in the first goalscorer market, although Wijnaldum is 22/1 to net the opening goal and Jimmy Milner's 16s.
Prediction
We've cleaned our crystal ball with Windolene and had a right good ol' stare into it. And here's how we see this All-English Champions League final going…
These are two quite swashbuckling sides. But this is a big game. Neither team will want to commit to too much in the early stages. It may be against Jurgen Klopp's instincts particularly, but 0-0 at half time wouldn't be a disaster for either dugout. The second half, we think, will see a little more excitement and that's where we see goals. Perhaps for both sides…
Liverpool have the form, the firepower and Firmino. They also have Mo Salah. And Sadio Mane. Even Gigi Winjaldum is free scoring now when he wants. We think their attacking prowess will win out. 3-1 to Liverpool (15/1).
---
Wherever you decide to watch the big game, enjoy yourselves. If it's with us, maybe think about getting yourself a ticket first…
Tickets are free, but there's limited availability, so don't wait too long, eh? See you down there.